Kitchens are a dangerous place for rugs with all the crumbs, grease, and spills. However, there are plenty of advantages to having a rug in your kitchen. Rugs are a great way to add color, as well as offer cushion where you spend a lot of time on your feet and define space.
Best Materials for Area Rugs in the Kitchen
Just because the rug looks good doesn't mean it can be in the kitchen, some materials just won't hold up in that environment. Sisal rugs add texture to a kitchen and are incredibly easy to clean. Synthetic and cotton rugs are durable and very easy to clean but don't offer much in the way of texture. The best material choice for kitchen rugs, however, is burlap. Burlap is extremely easy to maintain in a messy environment but doesn't fit into all design styles. This material is best suited for a rustic style kitchen.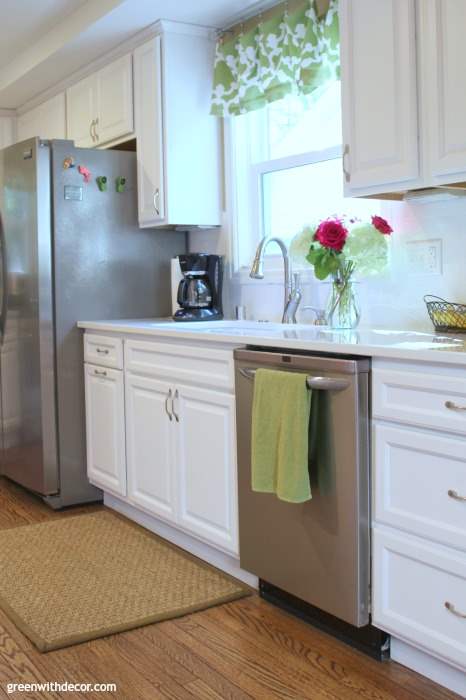 Styles of Area Rugs for Your Kitchen
After deciding on the perfect material, next you need to choose a style. There are thousands of style choices when it comes to rugs. Runner rugs are great for giving the illusion of extra length for galley style kitchens. Round, rectangle and square rugs add shape and define space in large open kitchens. For example, a rug under the table will separate the eating area from the prep area in an open kitchen.
There are even thin cotton rugs for kitchens which are easy to clean but don't offer much in the way of comfort. These rugs mainly serve the purpose of adding color and elegance.
How to Clean Kitchen Area Rugs
Of all the places, your area rugs could encounter stains, the kitchen is the best place. The most common stain for an area rug in the kitchen is grease. It is possibly the hardest stain to get out of anything. The best way to treat a grease stain is to place a towel under the rug directly under the stain. Apply a mild dish soap directly to the stain, let it sit for several minutes, then pour water over the area until all the soap and residue is removed. Dab dry with a clean towel and you're all set. You should refer to the label on how to wash the rug to avoid causing irreparable damage to the rug itself. Some rugs require dry cleaning, some can be placed directly in the washer. It all depends on the type of rug and what it is made of. Lastly, keep in mind that heat will set in a stain and damage the fibers of the rug. Synthetic fibers will melt when exposed to heat and cause permanent damage to the rug meaning you will have to replace the entire rug.
Area rugs are beautiful and brighten any room in your home, especially the kitchen. Don't let the fear of damaging the rug stop you from adding beautiful color and textures to your kitchen.